Bespoke Photo Booth Backdrops for Hire
The introduction of open photo booth formats has opened up the photo booth entertainment industry and their clients to a wide range of backdrop options that was never previously imagined, and honestly, we couldn't be happier! Goodbye boxy enclosed photo booths with your 3 coloured curtain backdrop options and hello open photo booths with a multitude of options to best suit my event needs!
Backdrops have fast become one of the keystone elements of a photo booth hire because they add a wow factor that people have been looking for to complete their event hire vision. Whether you are looking for a floral backdrop for a wedding photo booth, a fun sequin backdrop for a celebratory event, or a plain coloured high-tension backdrop for a glam or corporate feel, there is something for absolutely everyone at Photo Booth Hire Melbourne!
Glam Photo Shoot Backdrops!
Yasss! We love glam photo shoot vibes and the best way to achieve this is with a plain coloured backdrop. We have black, white, telling teal, perfect pink, and possibly more on the horizon…. you know because of the obsession… Pair it up with our amazing glam photo booth, and you'll be snapping Instagram worthy pics faster than you can say "Kardashian who?"
Sequins, Sequins, Sequins!
Nothing screams fun more than a sequin backdrop! Nothing! Well, our props do, but we are talking about backdrops here, okay? They're just so lively and yell "PARTY WITH ME!" like your drunk aunty at a family reunion. Ahhh aunty Sharon. As stunning as these sequin backdrops look on their own, have you seen these dressed up with cascading flora? *mouth on floor* – I don't often let my mouth hit the floor, but seriously, check some out on insta! Oh, and don't forget to check out neon signs on sequin backdrops too! Down the rabbit hole we go… Chat to your event planner about arranging embellishments for the photo booth backdrop and get creative!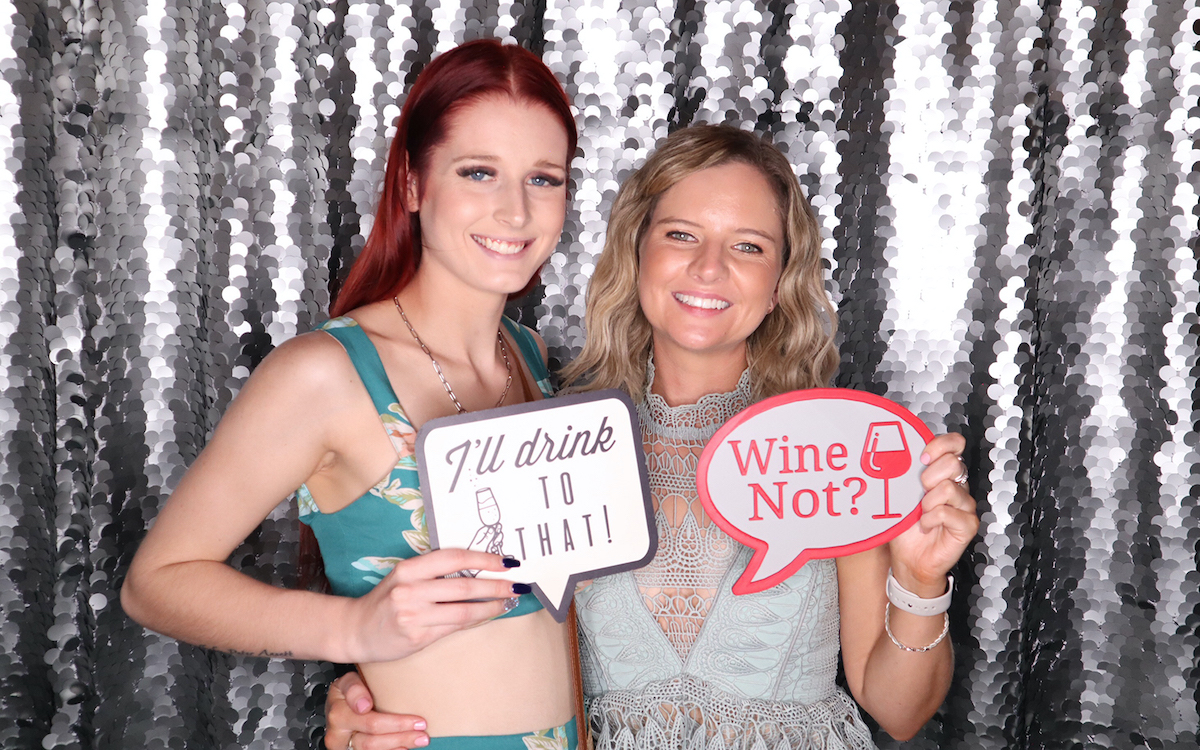 Mermaid Sequin Backdrops!
Our photo booth hire Melbourne mermaid sequin backdrops are fun and look amazing! With reverse sequins, the backdrop becomes two-tone so you and your guests can get creative. Write your name, draw a love heart or just swipe your hand across and create your own unique pattern!
Themed Event Backdrops!
Our high-tension backdrops come in a range of colours and designs to suit any event theme and they look seriously fresh to boot! We have floral backdrops for weddings, plain backdrops for glam photo shoots, Christmas designs for those Melbourne end of year celebrations, leafy backdrops for those tropical themed events and the list just goes on! Check out our complete range here!
But if you're wanting to splash a bit of cash and upgrade your backdrop, then boy-oh-boy, do we have some crazy backdrop options for you!
Air Activated Shimmer Wall Backdrops!
Have you seen these in action yet? If not, please feast your eyes upon the mesmerising shimmer wall below and see a shimmer wall in action by clicking here! Celebrities recently got snapped up in front of a shimmer wall for the SAG awards last year, and they are fast become the must-have backdrop for events! Suited to weddings, parties and corporate do's, you'll have everyone hypnotised by these shimmer wall backdrops at your next event! Want to get creative? Organise for a balloon arch around the backdrop or a neon sign for that extra WOW factor!
Streamer Wall Backdrop!
We love movement, and colour, and fun, and the streamerville backdrop delivers all 3! Streamer installations and backdrops have been the newest craze, and far be it for us to fall behind! I'm obsessed, but we all know this already.
Faux Floral Wall Backdrop!
Isn't she beautiful? Our Faux floral wall was carefully and lovingly handcrafted by a florist using nothing but the finest artificial flowers, and it really shows! The Faux Floral wall is a perfect addition to weddings and parties alike!
Custom Backdrop!
Need something specific for your event or corporate function? Not a problem! We've partnered up with wonderful people at Photo Booth Supplies Australia for all your custom high-tension backdrop needs! Keep in mind that we need time to design, approve and order your designs, so don't leave it to the last minute!
And there you have it! Have we helped answer your burning backdrop questions? We hope so! Keep an eye out for more fun backdrop designs in the future! *rubs hands together like a backdrop obsessed villain*
Say you love us without saying you love us, like and follow us on Facebook and Instagram! It'll mean the world to us! We may even do a happy dance. (We will definitely be doing a happy dance!)