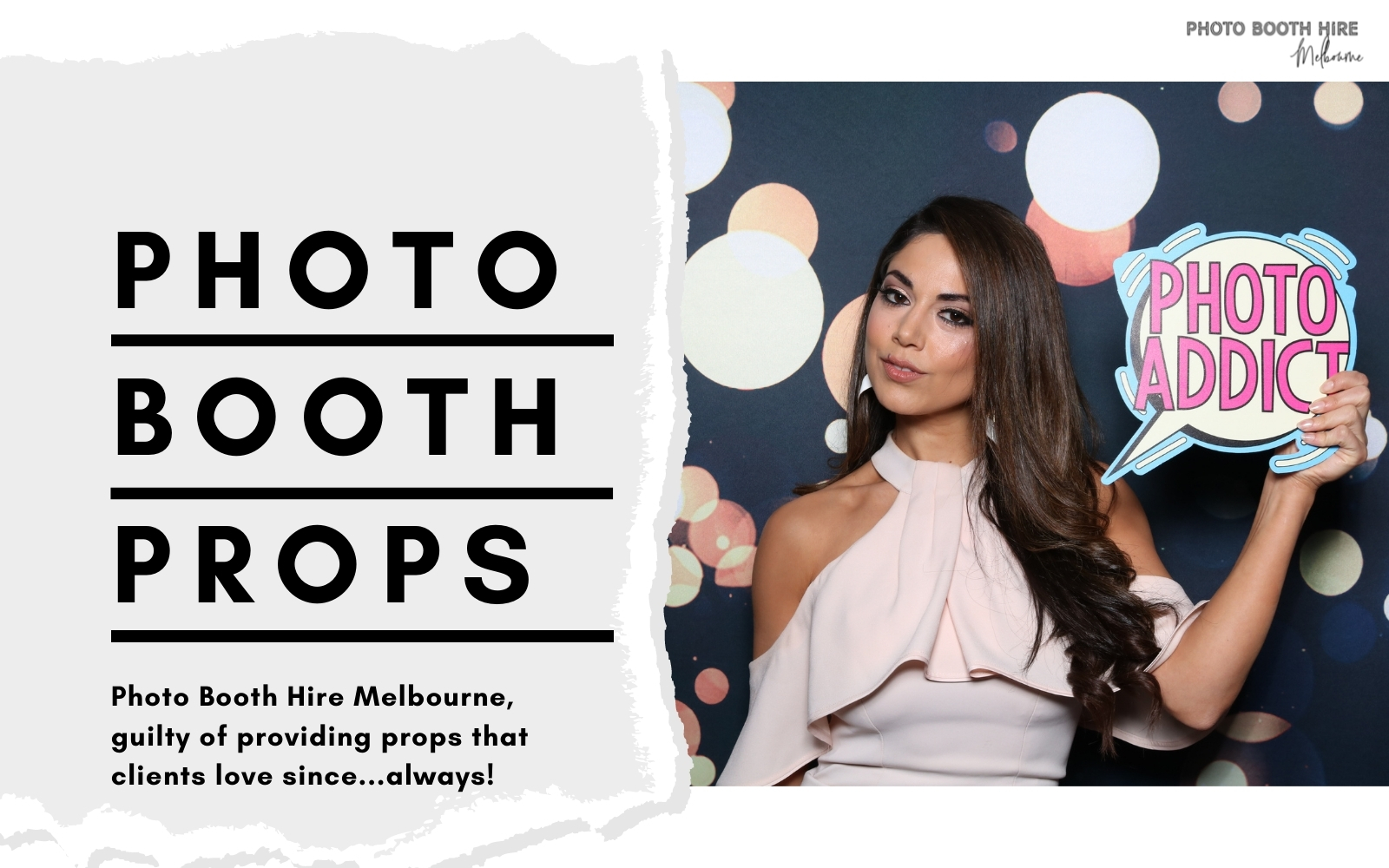 PROPS
I can talk about our photo booth props all day long, so please don't even get me started! No…no…no….well….if you insist! But don't say you weren't warned…
When we started our photo booth journey, we knew we wanted to provide the very best photo booth offerings, which included, having an amazing selection of props! With that in mind, we put on our Photo Booth Hire Melbourne lab coats, pushed up our oversized novelty glasses, did our research, and checked the trends to handpick some of the best photo booth props in the industry. How did we do it? Easy, we thought hard about what type of props we would want if we hired a photo booth, and surprise, surprise, crappy paper props were not at the top of the list! We wanted fun, classy and modern photo props that were in line with our modern photo booth set-ups as well as with our clients' needs and wants!
When Covid-19 hit, we decided right away that we needed to come up with a range of photo booth props that could be easily sanitised between sessions. We viewed wedding trends, fun corporate prop signs, birthday and Bar-Mitzvah photo props, and light-hearted ways to have a giggle when we needed it most. We then teamed up with new-kids-on-the-block, Photo Booth Supplies Australia, to see what we could come up with and boy-of boy, did they deliver the goods! Feast your eyes on the results below!
Aren't they just so luxe! They make me want to jump in front of a photo booth with them right now! Oh wait, I can! Excuse me just a moment, I'll be right back!
….okay, where were we? Ahh yes! Did we mention how fun they are? There's nothing like attending a wedding, birthday, or corporate function and realising that there is not only a great looking open photo booth and backdrop to pose in front of, but an amazing range of photo booth props to get loose with!
Hang on, is that a cat reference prop? How purrfect!
Now some of you may have been thinking, "Jess, level with me, should I have a photobooth with props at my event during Covid-19?" Don't worry, we hear you loud and clear and have put some Covid safe practices in place so that you can still enjoy an entertaining photo booth at your event with or without props! Huzzah!
Your Photo Booth
We have introduced extra cleaning and handling methods of your photo booth and your photo booth props prior to your booking, during your booking, and after your booking. Your photo booth is sanitised prior to its arrival at your event and will be operated by a trained staff member that can enter all of your selections without anyone having to touch the photo booth at all. If you choose to have props at your event, we will also sanitise your props in-between sessions. Most of our photo booth options are now integrated with QR scanners and fun digital props for a completely contactless experience! When using a QR code, you and your guests will be able to control the photo booth experience from your very own mobile device, so no touchy, touchy! Amazing right?
Props
One of the many reasons we were keen to create a range of fun hand-held signs for events was so that we could temporarily cut back on some of our physical props with items that can be sanitised between sessions. We also never use the same props within 20 days of each other as an extra safety precaution.
There are times when Covid-19 cases are higher across the state, where we will eliminate the use of props all together and encourage the use of our fantastic digital prop range!
Prop-less
As much as we adore our photo booth props, and we really do, there is an irresistible charm to prop-less events. I know, I didn't believe it either, but I assure you, it's 100% true! After running a number of prop-less events, we've asserted that prop-less photos just look gorge! What better prop is there than your very own selves right?!
The takeaway? Props, or no props, photo booths are always a guaranteed good time, every time!
Now, who's ready to party when lockdown ends? *raises arm so quickly and pulls a muscle*
Say you love us without saying you love us, like and follow us on Facebook and Instagram! It'll mean the world to us! We may even do a happy dance. (We will definitely be doing a happy dance!)